GMRS Radio
Alex Seefeldt
Updated
October 20, 2020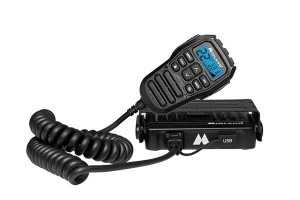 Product Info
Model
MXT275 MicroMobile Two-Way Radio
A full 15 Watt two-way GMRS radio featuring a fully integrated handheld microphone.
Perfect for those with limited dashboard space. Broadcast over 15 GMRS channels plus eight high-powered repeater channels. Tune into NOAA Weather Radio to get weather updates from the National Weather Service. Mounting bracket, 12V power cord with DC adapter, detachable antenna and magnetic antenna mount included.
User reviews
I installed the MXT275 in My 2020 Colorado. The main unit is located under the rear seat, I then mounted an extension with a female adapter up front to plug the handset into when in use. It's performance is outstanding. The only thing I would say is I'd like for it to be able to connect to repeaters like some of the other models can.